Products - Ensapsultated transformers Products - HR equivalents
See also: Quality and reliability | Environment
Encapsulated transformers- types and features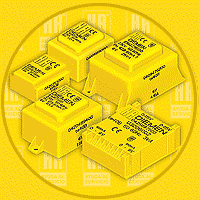 The range of encapsulated transformers in their series Mini, Standard and Ultraflat covers all the requirements according to physical space and technical features required by the power supply circuits used in printed circuit boards.
The HR encapsulated, improve the output of the conventional opened transformers , the encapsulated with self-extinguishing class F resin and the know-how HR during the resin application process in inductive components of critical application, make our transformers support humidity and aggressive ambient conditions with the highest reliability level.
Our value is the total integration of our product
Product design
Mould design and plastic injection
Own robotics engineering for our manufacture processes
Permanent reliability tests which prove the constant improvement of our products
>>
Know HR product values
HR range

Mini series

0,35 VA - 0,6 VA

Ideal for low voltage applications and limited space

Standard series

0,5 VA - 25 VA

Designed for a wide range of voltages and limited space

Ultraflat series

2,4 VA - 30 VA

Also for a wide range of voltages but for limited height
Design and manufacture features
Manufactured according regulations EN61558, EN60590, EN60742, UL 506, UL1585
Self-extinguishing body plastic UL94 VO
Epoxy resin class F self-extinguishing UL94 VO
Two-chamber coil
Double isolation copper wire
Laser print case, which assures its permanent identification
Lead free connection pins
Available for ambient temperature of 40º C / 104º F and 70º C / 158º C
Thermal class materials B (130º C) or F (155º C) optional
Short circuit proof models to 3,2 VA
Certifications VDE, UL; others certifications under request: CSA, SEMKO
Packaging

Minibox

Containing 5 units (0,35 VA to 5 VA)
Containing 1 unit for higher power

Bigbox

Industrial packaging (from 30 to 200 units, depending on model)
Manufacturing process
All HR transformers work under real working conditions along the manufacturing process. The transformers support the reliability tests which prove their durability and keep all the functional parameters along their life term.

Our high level of automation and our wide experience in the inductive components manufacture, let us develop these transformers in robotic lines of assembly and control.